INTERIOR DESIGN FOR
121m2 Apartment
Diseño de interiores para apartamento de 121 m2. Se realizaron algunos cambios estructurales para mejorar la distribución de espacios. Se decoró cada cuarto de forma que complementara la paleta de color y destacaran diferentes objetos/adornos.
A continuación se describe el trabajo realizado en cada espacio del apartamento.
----
Interior design for 121 m2 apartment. Some structural changes where made to improve the distribution of spaces. Each room was decorated in a way that the color palette was complemented withe the objects placed inside each room/space.
Nest you will see the work done for each space inside the apartment.
Balcón y Vista / Balcony & View
En el balcón se colocan varias plantas para dar un aspecto natural como un pequeño jardín. Las vistas desde piso alto son maravillosas incluso en la forma que da el sol a diferentes horas del día.
----
In the balcony several plant are placed to give a natural feel like a small garden. The view from an upper floor is amazing even the way the sunlight traces during different hours of the day.
La sala se maneja en tonos grises, un estilo más tradicional con muebles de cuero y alfombra tipo persa para dar vida al espacio. Los detalles de las sillas, mesa y muebles en cromado le da un aire moderno. Se coloca una lámpara con luz cálida para dar a la sala un ambiente más acogedor.
----
The livingroom uses neutral gray tones with a more tradicional style, leather furniture and Persian carpet to give a design accent to the space. The chrome details of the chairs, center table and sofa gives a modern touch. The lamp has a warm light to make the area feel more cozy.
Se deseaba acentuar el espacio de sala-comedor con un papel tapiz especial que aportara color y diseño al espacio ya que las demás paredes utilizan colores neutrales. El comedor de vidrio templado ayuda a ampliar el espacio y la alfombra enmarca el área combinándose con el papel tapiz. Se mantiene una lámpara con luz blanca para acentuar la limpieza.
---
With the desire to make a statement a beautiful colorful wallpaper was applied for an accent wall, giving a cheerful ambient to the neutral walls. The table was selected in tempered glass to give more amplitude to the space and the rug is complementary to the wallpaper. White light is maintained to give a fell of cleanse to the ambient.
Para la cocina se trabajó un diseño especial con acabados de lujo en gabinetes y cajones italianos marca Scavolini con textura tipo madera clara y laqueados. Se optimizó el mayor espacio posible, colocando alacenas verticales con rieles y dishwasher con escondido así como la campana extractora de olores. La línea blanca en marcas Bosch y KitchenAid complementan la estación de trabajo. Se movilizó el lavaplatos para quedar frente a la ventana y tener una mejor vista. 
The kitchen has a special High-end Italian Scavolini design cabinets and drawers with wood like texture and glossy finishes. Trying to optimize the space, vertical cabinets where introduced as well as a hidden dishwasher and bell. For the 
appliances Bosch and KitchenAid brands where selected to create a complete working station. The sink was moved to be located in front of the window for a better view and coziness.
Cuarto de Estudio / Study Room
Se diseñó el mueble escritorio-librera en forma de L para 2 o 3 personas, con el mismo material de los closets y gran cantidad de compartimientos y gavetas para aumentar la capacidad de almacenamiento, colocando pintura celeste de fondo para acentuar el espacio y resaltar los objetos a colocar. 
The L shape furniture with incorporated desk and bookcase are design for 2 or 3 people working at the same time. Using the same material as the closets and a large number of cabinets to increase storage space. A light blue color was used for the wall as an accent to pop up the objets placed in the book case.
​​​​​​​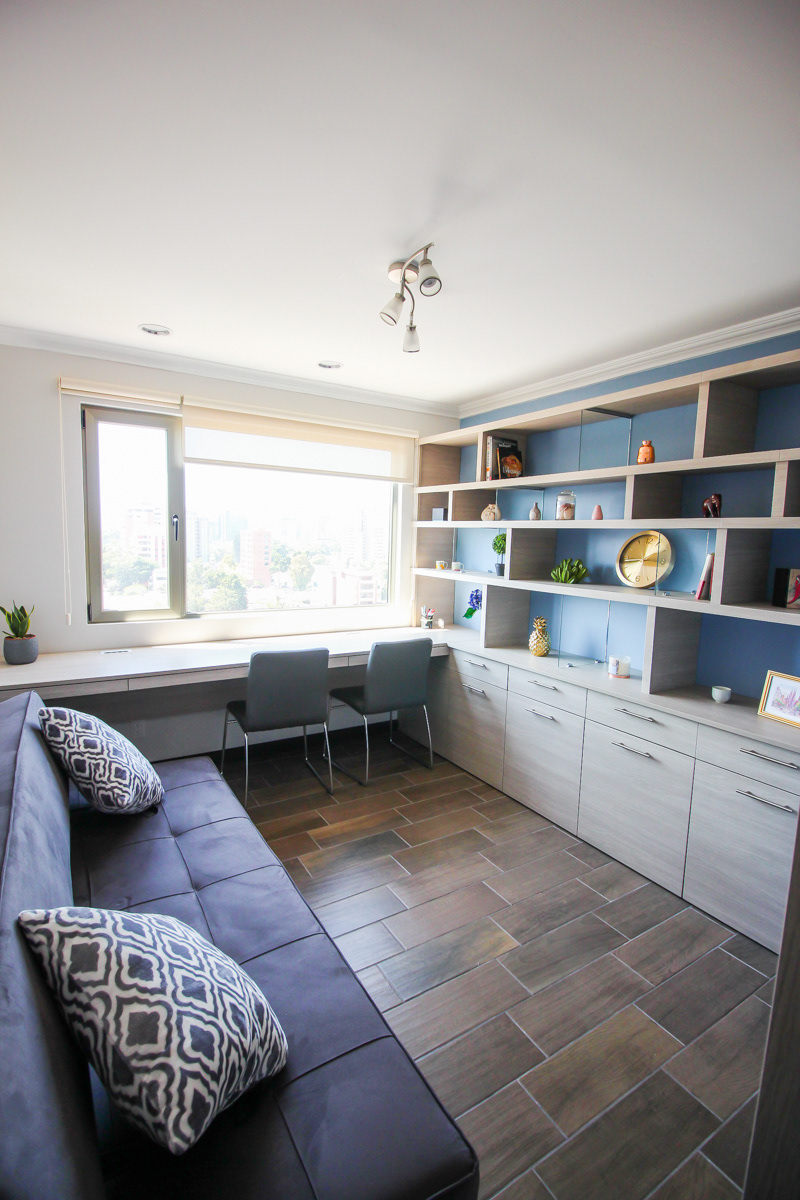 Baño de Visitas / Guest Bathroom
Para este baño se deseaba colocar un diseño bastante marcado en la baldosa/azulejo estilo mediterraneo-marroquí con colores gris y café. Se combina con detalles de listelo cromado de cuadros para dar un toque moderno, espejo plateado, y una lámpara importada de Marruecos para acentuar, dar un poco de color y continuar con la temática.

---
For this guest room a bolder look was considered, with a mediterranean kind of tile in gray and brown colors. It's combined with a chrome detail tile to give it a modern feel. Also a silver mirror and a special imported lamp from Marrakesh to create the arabic ambient.
Cuarto Secundario / Secondary Room
Este cuarto se diseño para una persona joven, con detalles como la cómoda con patrón estilo africana y detalle de lámpara con forma de hojas y diferentes tonos de luz. El ambiente se define con colores beige en paredes y cortinas. 
Baño Secundario / Secondary Bathroom
Buscando la claridad se pensaron los colores blanco y beige para el baño secundario. Se colocaron azulejos blancos con detalles de líneas beige, espejo con concha de nácar, listelo especial, mampara de vidrio para dar la sensación de un espacio abierto.
...
Looking for a bright space, white and beige colors where chosen for this secondary  bathroom. White tiles with beige lines, shell of mother-of-pearl mirror, glass doors for the shower to give a sense of spaciousness and open space.
Cuarto Principal / Main Room
En el cuarto principal se buscan colores neutros en paredes, muebles y cortinas, con detalles que resalten brindando color y un aspecto elegante. 

---
In the main room bright and neutral colors establish the ambient in walls, furniture and curtains. Complemented with colourful details to pop-up and bring an elegant view.
Baño Principal / Main Bathroom
El azul y blanco de las islas griegas del mediterráneo fue la inspiración para el baño principal. Se realizó un diseño y diagramación especial para el azulejo de este espacio, dandole un aspecto elegante e inspirador. Se integraron detalles especiales como el espejo con borde dorado, el mueble en azul para combinar con los azulejos, teléfono para ducha y manguera para inodoro tipo videt, espejo de aumento y el uso de mampara (puertas de vidrio) para aprovechar la luz natural de la ventana y dar amplitud al espacio.

---
The blue and white colores of the greek islands from the mediterranean where the inspiration for the main bathroom. A special layout was designed for the tiles giving a elegant and inspiring look. Different details where placed like the big mirror with golden border, blue furniture under the basin to match the blue tile, shower telephone, and a special hose (videt-like) for the toilet. Also a magnifying mirror and glass doors to benefit from the window natural light, creating a bigger visual space.