Restroom for Kids - Interior ReDesign
La Iglesia Adventista de Vista Hermosa, Ciudad de Guatemala, contaba con un baño en condiciones precarias y descuidado, el cual debía de ser adaptado para niños ya que era el único baño disponible cerca de sus clases a las que asisten cada Sábado y algunas veces entre semana.
El baño está destinado exclusivamente para niños y niñas de 0 a 9 años y un cambiador para bebés. Se buscó crear un ambiente limpio donde los niños se sintieran cómodos al usar las facilidades, que fuera fácil de limpiar, se adecuarda a su tamaño y edad. También se buscó elminar la presencia de materiales de limpieza peligrosos que se almacenaban en el baño al igual que la pila.
El proyecto se trabaja bajo el concepto LUZ AL FONDO DEL MAR, donde se propone un estilo escandinavo con tendencia sweet dreams y con temática del fondo del mar por estar destinado para niños. Se propone este estilo para reflejar limpieza, dar claridad al espacio y crear un lugar para que los niños puediran disfrutar del ambiente y ejercitaran su imaginación
-------
The Adventist Church from Vista Hermosa, Guatemala City, had a restroom in really bad conditions which had to be adapted for kids since it was the only available restroom near the classes they attend on Saturdays and ocasionally other days.
The restroom was supposed to be only and exclusively for kids, boys and girls from 0 to 9 years old and a baby 
changing station. I was looking to creat a clean mbient where the kids felt comfortable to use the facilities, that it was easy to clean and was adapted to their small sizes and ages. Also to remove the "pila" (big sink) and the dangerous cleaning liquids and materials that where originally stored inside the restroom cupboards.
The project was developed under the concept LIGHT AT THE SEA BOTTOM, looking for a scandinavian style with sweet dreams and the "sea bottom" as a theme for the restroom as it was designed fo kids. With this style we are looking for a clean and bright space and creating a special ambient that the kids could enjoy and let free their imagination.
PLANO Y PALETA DE COLOR / COLOR PALETTE
DISEÑO PRELIMINAR / PRELIMINARY DESIGN
FOTOS RESULTADO FINAL / PICTURES OF DEVELOPED PROYECT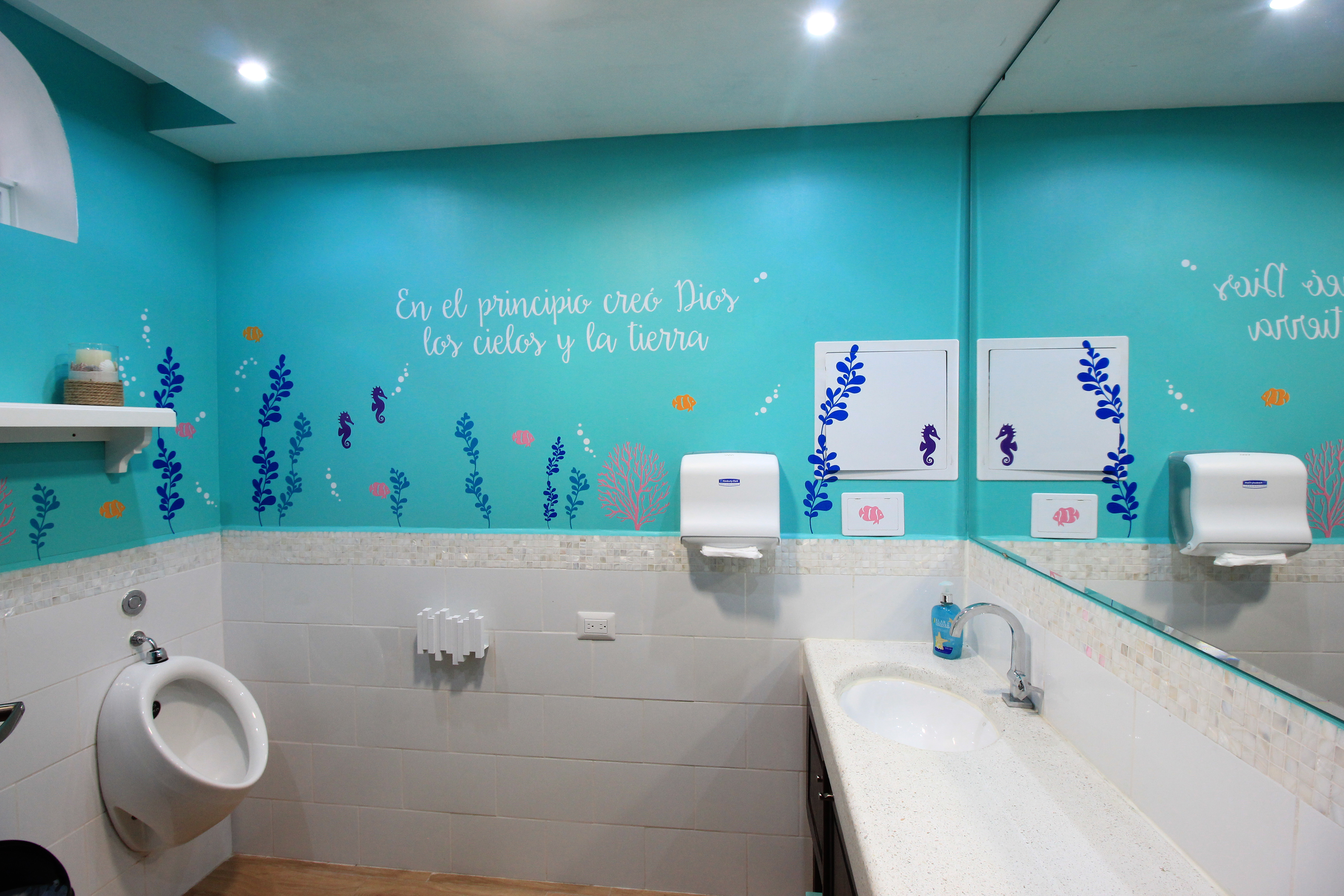 ANTES / DESPUÉS - BEFORE/AFTER